ICTLE 2020 History
2020 8th International Conference on Traffic and Logistic Engineering (ICTLE 2020)
Shenzhen, China丨 August 28-30, 2020
ICTLE 2020
was planned to be held in Shenzhen, China during August 28-30, 2020, but due to COVID-19, it was converted as fully virtual conference.
Due to the impact of COVID-19 in 2020, most of the conferences in the world have to hold it online. The interactive conferences anymore involve a serious risk for this virus to spread among the participants. Besides, due to the restrictions imposed by governments in many countries around the world, most of participants will not be able to participate to ICTLE 2020. Most importantly, the health and safety of our participants is our top priority. Due to those irresistible factors, ICTLE creat the web platform to allow all the participants to attend all the conference activities online. Special thanks to all the speakers, authors, audience, committee members, even in such a difficult situation. The online conference schedule including 4 sessions in the field of Traffic and Logistic Engineering, which open 2 meeting zooms during the conference day to make everyone present their papers smoothly. The whole conference features our keynote speeches, invited speeches, authors' live presentations, video presentations. And we also selected best presenters from all the presentations. Due to the copyright, we can't show the recording of each presentation, but below is the part of online presentation photo gallery.
Good News! ICTLE 2020 have been included in MATEC Web of Conferences.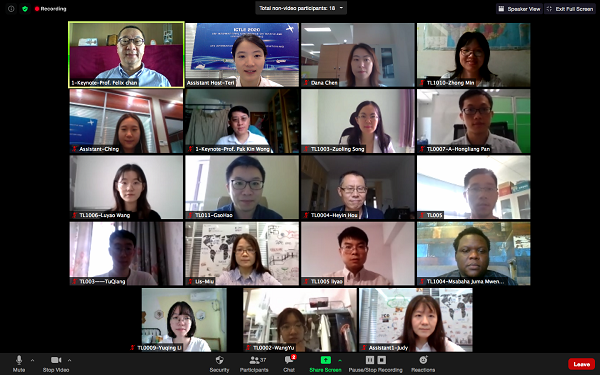 Prof. Felix T. S. Chan, the Hong Kong Polytechnic University, Hong Kong

Speech Title: Optimization and Coordination of Hangar Maintenance Activities for Airlines in MRO Industry

Prof. Sherif Ishak, Old Dominion University, USA

Speech Title: Developing a Crash Risk Index and Detecting Driver's Engagement in Secondary Tasks from Driving Behavior Attributes and Socioeconomic Characteristics: A Naturalistic Driving Study
| | | |
| --- | --- | --- |
| | | |
| Presentation by Heyin Hou, Southeast University, China | Presentation by Zan Li, Tsinghua University, China | Presentation by Shengjiao Yang, Shandong University of Science and Technology, China |
| | | |
| Presenation by Msabaha Juma Mwendapole,Dalian Maritime University, China | Presentation by Hao Zhang, Huaiyin institute of technology, China | Presentation by Chengbing Li, Inner Mongolia University, China |